Tattoos of the Day
05.02.23
Join us 5/3 @ 11am est for a discussion panel featuring Bob Tyrrell, Marshall Bennett, and special guests! Moderated by Whitney Schiller. Sponsored by Lucky Tattoo Supply and Hustle Butter Deluxe. Tech by TattooNOW. Hosted by Unify Tattoo.
03.14.23
Another seminar skull from my bro @bobtyrrell and Marchall Bennet at the @motorcitytattooexpo this past weekend. Been a hectic week ! We used both our gray wash sets on this one …. I used mine and he used his. Maybe next time we will switch lol . Always have a blast doing these seminars and I always learn thanks to the cool talented artists that attended. Catch us at Black and Grey week at Unify Tattoo Florida! UnifyTattooFL.com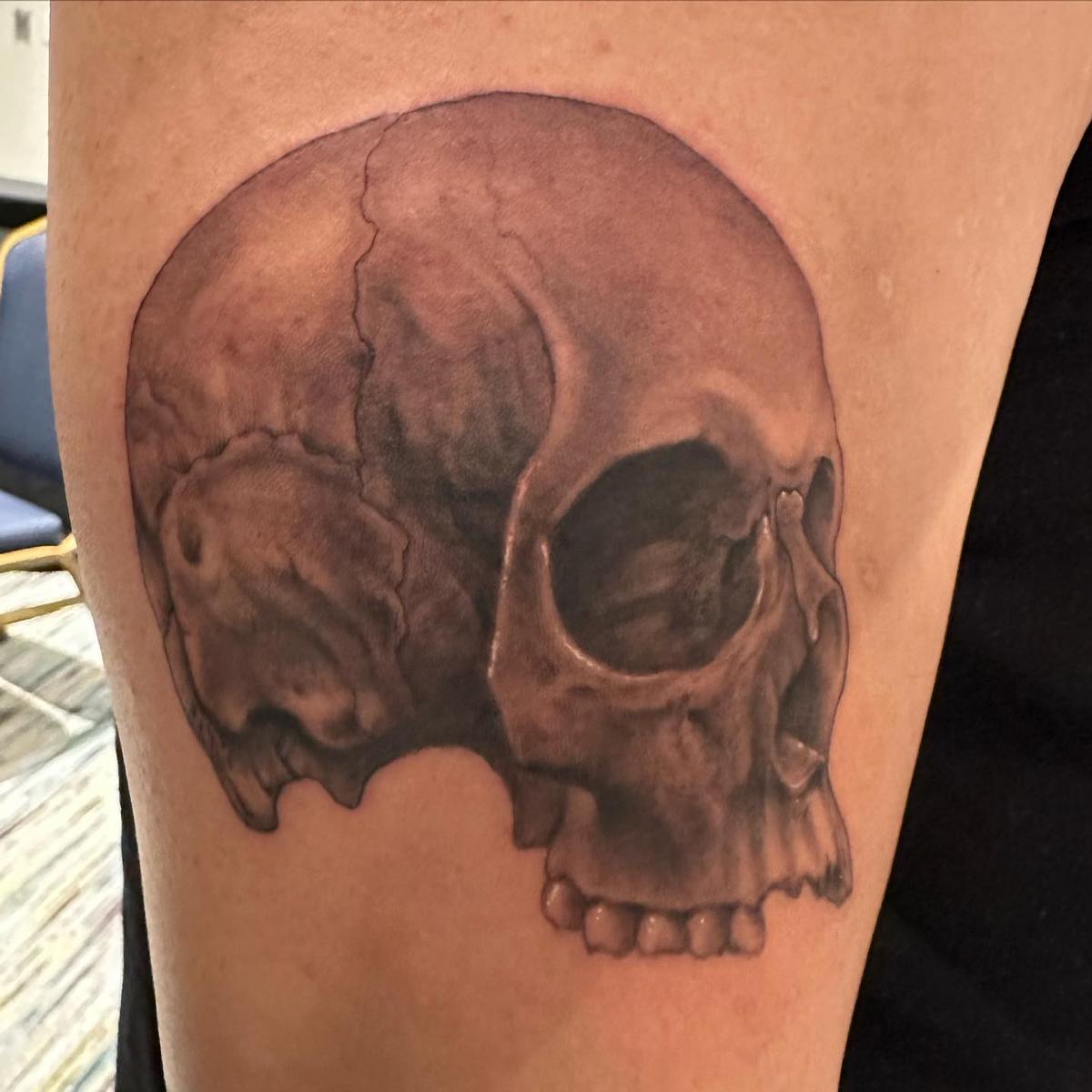 Predictive Computer Simulation
There are many technologies making it possible to predict how a tattoo will look as it heals and ages over time. Technologies that will revolutionize the tattoo industry, making it easier for artists to create designs that will age well and giving clients a better idea of what their tattoos will look like as they move through the world.
As mentioned in Part 3, 3D modeling has become increasingly common in the world of digital art, with numerous applications available. Photoshop, Procreate, and Clip Studio Paint are just a few programs that have incorporated 3D modeling into their assets. There are a few additional more powerful softwares on the market such as Z-Brush and Blender that specialize on this.
In order for tattooing to make full use of these more sophisticated technologies there needs to be a conversation around some type of system or language that we can create. Something to help guide each other and people coming into the industry towards a more constructive solution.
Watch the full episode:
Tattooers and apprentices, enjoy the end of the weekend the right way, with a group drawing session. Join host Jason Leeser and other talented artists for the Sunday Evening Reinventing Drawing Group.
Bring any art you're working on for the day, whether it's:
- a tattoo appointment
- prep for an upcoming tattoo
- just doodling and having a good time.
All skill levels and styles are welcome. If you are working on a project and want to jump in and show off, if you are struggling with a part of a designated want some honest feed back or an alternate perspective/opinion, or if you just wanna watch me draw some things and work on some art stop on by. This will be a judgment free, positive atmosphere for all artists to show off and meet some new people.
Ideal Tattoo Color Palette
"Assuming that you can get all tattooers to agree or adopt skin type color index then you'll end up with something like six to seven colors that'll be the optimal colors that'll work in tattooing. They'll read the best, they'll be very predictable. That doesn't limit the artist because you can still mix those colors…"
-Shawn Bellina, S8 Tattoo Chemist
Often enough, when you're choosing colors for a tattoo you can run into some issues. Occasionally when clients come back with their healed tattoos you can be a little disappointed to find that the ultra bright green you packed into those leaves looks a little drab or splotchy now. What happened (Link to Hi-Tech)? Could there be a universal way to fix these kinds of problems?
Limiting your options
When it comes to picking tattoo colors, there are a few things to think about. How many colors do I really require? Is it practical to restrict your color palette? Are there certain skin tones that benefit from particular color palettes? Could we streamline the procedure?
Tattoo Ink manufacturers create enormous catalogs that can cover just about any color, transition, or problem you might encounter. But with the rainbow at your fingertips sometimes it can be a little daunting trying to decide. Limiting your own color palette might be a good way to take a lot of the guesswork out of decision making.
Most ink brands have "Signature Sets" which contain a limited color palette that an artist normally uses. These can be helpful too if you're really inspired by an artist or aren't sure where to start when building your own catalog or library of tattoo colors.
What's a good starting point?
Building on some of the aforementioned ideas, like establishing a clear index for classifying skin types. You should be able to run a computer simulation and end up with about six distinct hues that will be the ideal colors for tattooing any skin tone. That might seem a little limiting to most veteran tattooers, but tattoo artists and ink manufacturers would be able to mix those colors and still be able to create a range of colors and options that would be just as extensive and make it more inclusive to clients who fall onto the darker portions of the scale. you might think of a CMYK printer, which only has 4 standard colors, or a standardized palette might look like the example below.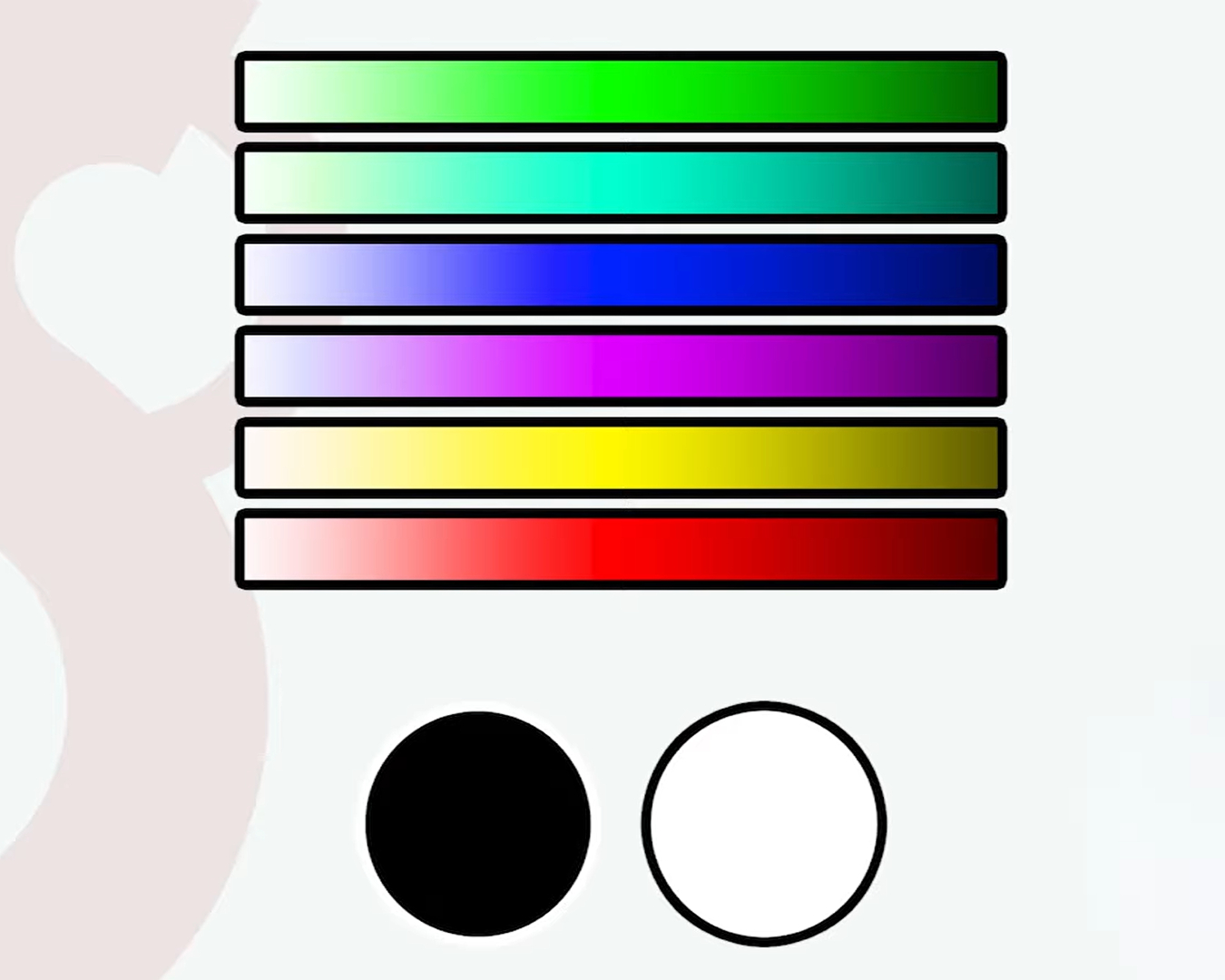 Watch the full episode: