Tattoos of the Day
05.02.23
Join us 5/3 @ 11am est for a discussion panel featuring Bob Tyrrell, Marshall Bennett, and special guests! Moderated by Whitney Schiller. Sponsored by Lucky Tattoo Supply and Hustle Butter Deluxe. Tech by TattooNOW. Hosted by Unify Tattoo.
03.14.23
Another seminar skull from my bro @bobtyrrell and Marchall Bennet at the @motorcitytattooexpo this past weekend. Been a hectic week ! We used both our gray wash sets on this one …. I used mine and he used his. Maybe next time we will switch lol . Always have a blast doing these seminars and I always learn thanks to the cool talented artists that attended. Catch us at Black and Grey week at Unify Tattoo Florida! UnifyTattooFL.com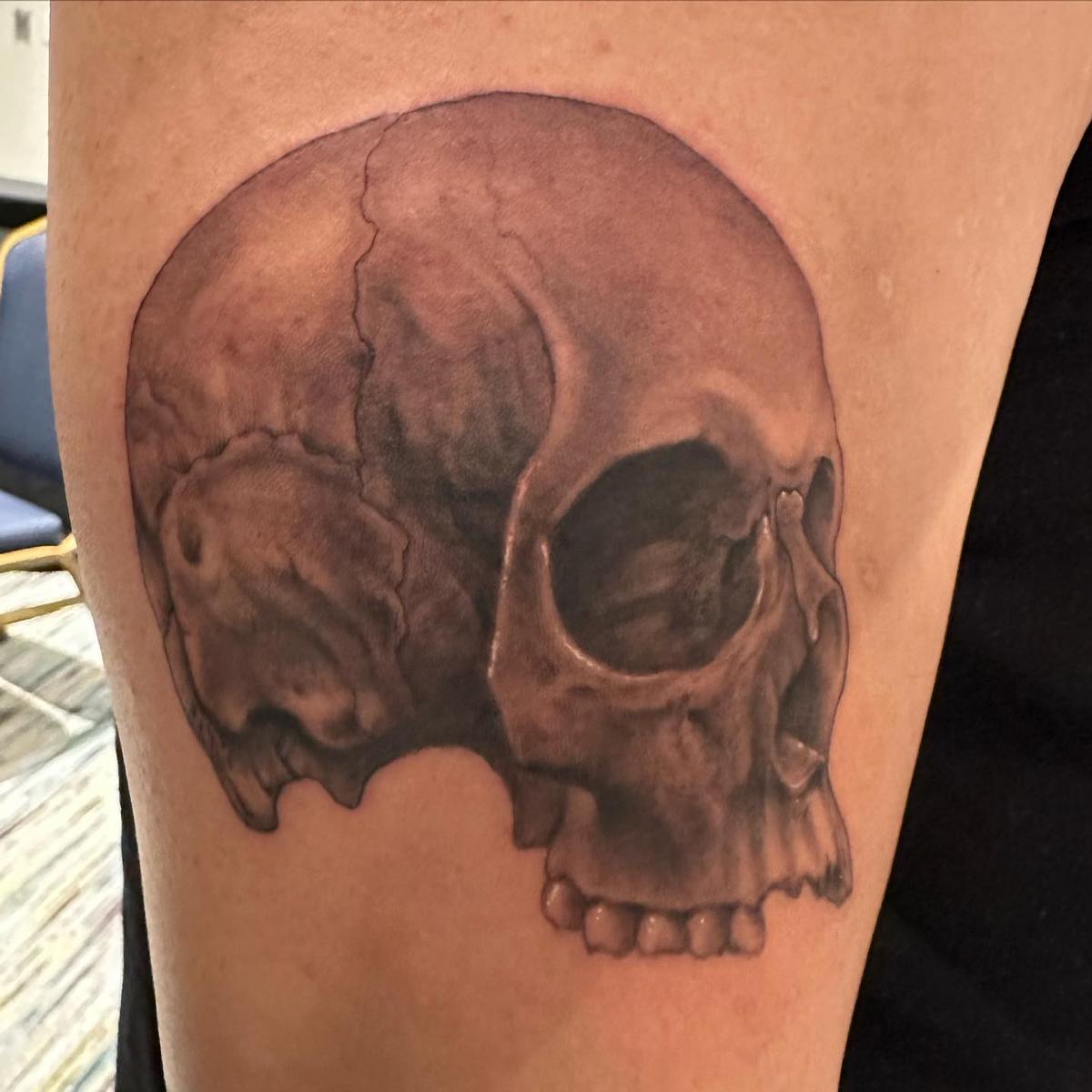 Tattooers and apprentices, enjoy the end of the weekend the right way, with a group drawing session. Join host Jason Leeser and other talented artists for the Sunday Evening Reinventing Drawing Group.
Bring any art you're working on for the day, whether it's:
- a tattoo appointment
- prep for an upcoming tattoo
- just doodling and having a good time.
All skill levels and styles are welcome. If you are working on a project and want to jump in and show off, if you are struggling with a part of a designated want some honest feed back or an alternate perspective/opinion, or if you just wanna watch me draw some things and work on some art stop on by. This will be a judgment free, positive atmosphere for all artists to show off and meet some new people.
Breaking Through The Shapes of the Old Tattoo
"To cover that band, I was going to need some big, beefy, kind of chunky shapes."
- Jake Meeks
Cover up designs require careful consideration when it comes to the kinds of shapes used; they must effectively break apart, conceal and integrate with the problematic area. It's a good idea to section off or chunk out the old tattoo into smaller areas and shapes instead of trying to just cover the whole thing in one go.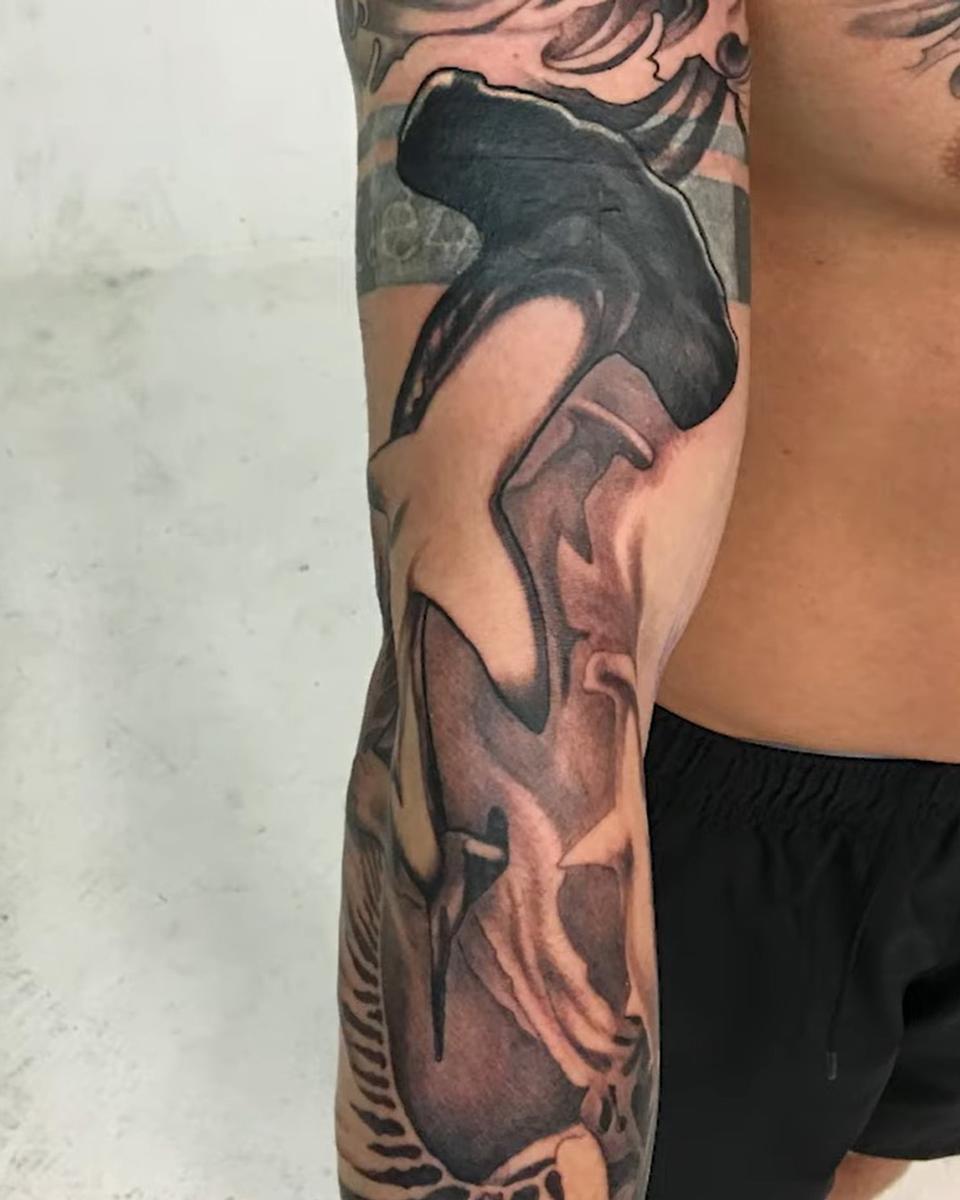 When you have a thick black armband like this, making huge wide shapes can create motion, fluidity, and direction in your design. For example, Jake used the blocky shape of this hammerhead shark to cut through the band at an angle which draws viewers' attention up into the waves before leading them down, past the old tattoo towards the other elements of the design.
You're also going to need to make multiple passes at this stage, so packing in a layer of white into the thick dark areas at each pass can really help to break those shapes down even further. Now, you'll never really be able to get rid of the black completely, this only lightens it about 15-20% every healed layer. This starts to neutralize the area and gives you some extra workability room to come in later with other shapes and colors.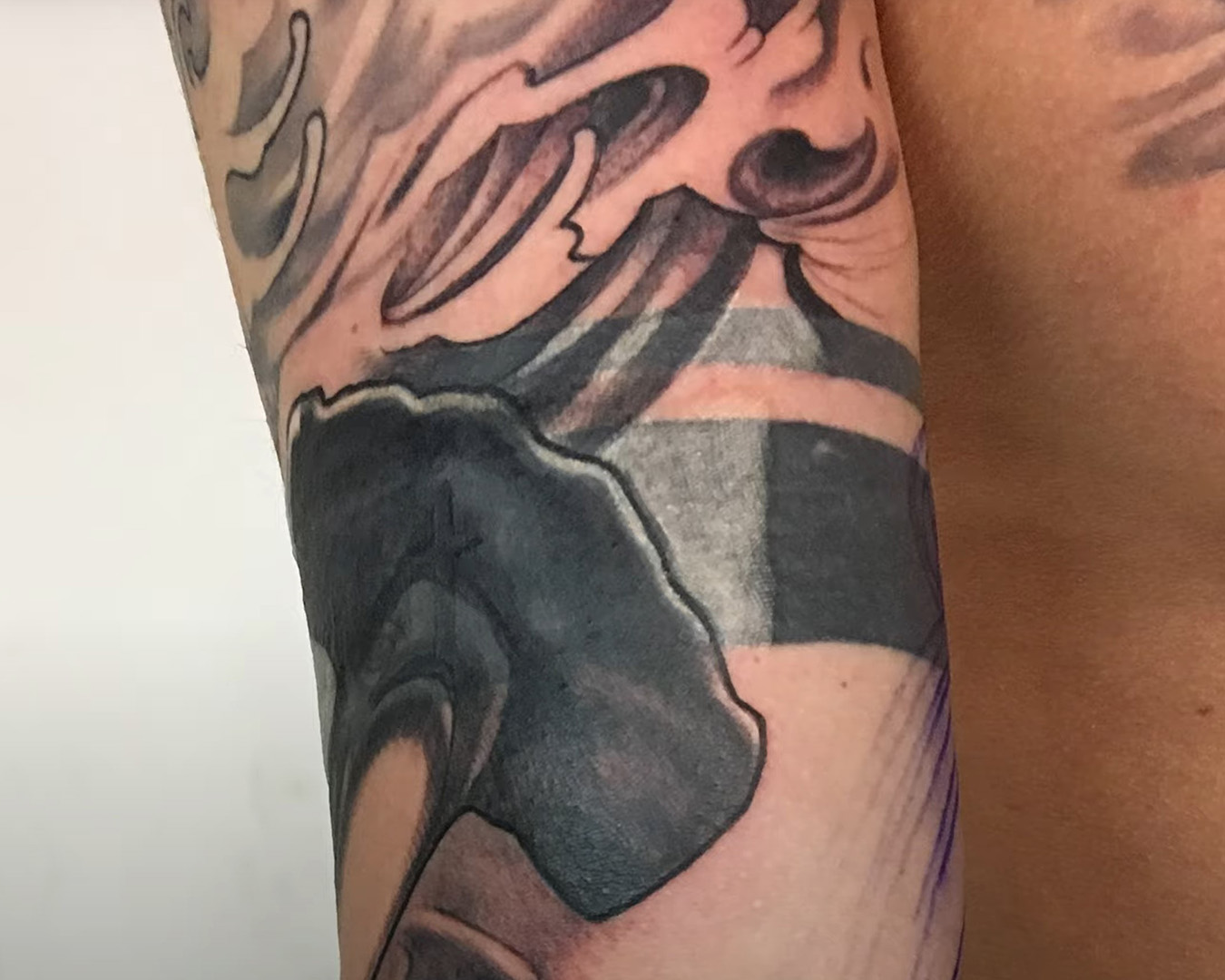 Lastly for this section, the key to ensuring the new design stands out over the old one is contrast. Make sure the new design has darker features and hues compared to the original tattoo, as this will make a huge difference in separating both designs.
Watch the full episode: