Tattoos of the Day
05.02.23
Join us 5/3 @ 11am est for a discussion panel featuring Bob Tyrrell, Marshall Bennett, and special guests! Moderated by Whitney Schiller. Sponsored by Lucky Tattoo Supply and Hustle Butter Deluxe. Tech by TattooNOW. Hosted by Unify Tattoo.
03.14.23
Another seminar skull from my bro @bobtyrrell and Marchall Bennet at the @motorcitytattooexpo this past weekend. Been a hectic week ! We used both our gray wash sets on this one …. I used mine and he used his. Maybe next time we will switch lol . Always have a blast doing these seminars and I always learn thanks to the cool talented artists that attended. Catch us at Black and Grey week at Unify Tattoo Florida! UnifyTattooFL.com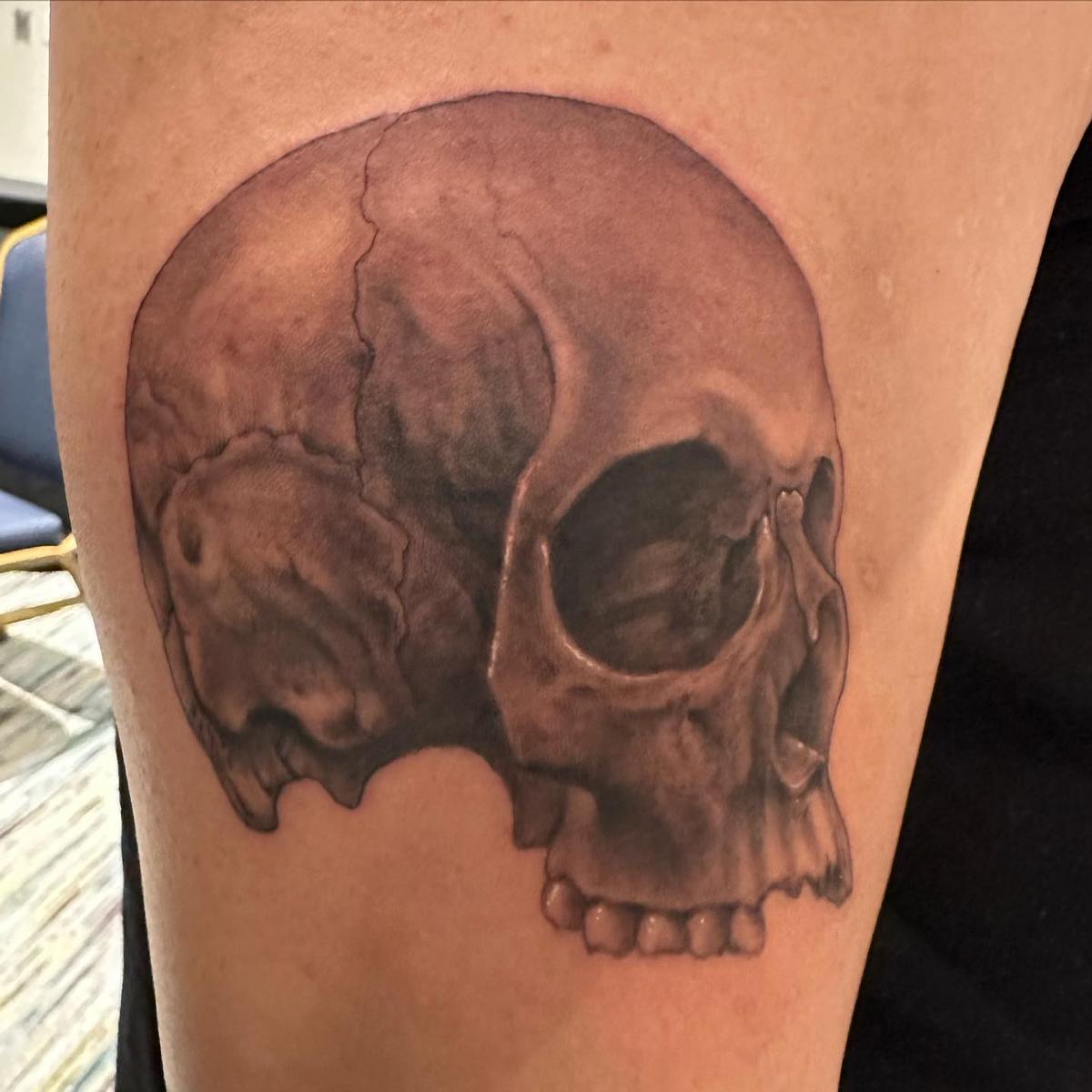 MMM! That's a JUICY TATT; Keeping Loose, Letting Things Happen
[18:07] "Some of the fluid effects that I'm adding to my paintings are just on the fly, I'm not really sure where it's going. There's always some point in a painting where you want to start getting loose letting things kind of happen on their own, that will maybe add to the overall composition at the end."
— Corey Bernhardt
It's often beneficial to make a conscious effort of embracing "happy mistakes" and allow spontaneity to play a role in designing tattoos and paintings. Though it can be a challenge to render some painting or drawing techniques in tattooing, it can still be helpful and important to keep it loose and let things unfold naturally during the creative process.
On the other hand, a simpler design is important for the durability and longevity of a tattoo. As artists, we tend to noodle or over render some areas. Though these details look great when the tattoo is fresh, as it ages in the skin it can often muddy up the design. In the same vein, leaving room for the skin tone of the client to show through the design can aid in the simplification of a design. Think of the skin tone as the lightest value in the composition, utilizing skin as a value can reduce overworking the skin and potential trauma, as well as reducing overall work time. By embracing simplicity, you can allow the skin to play its part in the final composition.
Also, consider mastering the art of self-critique by attempting to look at your work objectively. Often we can easily identify flaws in another artist's work, but find it challenging or a struggle to apply the same insights to our own. It's a common dilemma of wanting to follow comfortable habits while trying to be open to the creative process and embracing a sense of play in your work.
Watch the full episode:
Knowing What IS, And Then Starting From There
[14:36] "I'm very conscious of placement on the body and what the tattoo looks like at rest. How does somebody view it? If somebody wants a rooster on their upper arm I'll invert the rooster, because I don't want a pair of rooster feet hanging out of someone's sleeve."
— Corey Bernhardt
Because most people that are getting tattooed today already have tattoos, and people are wanting larger and larger work, it becomes difficult to have untethered freedom to create the perfect sleeve or backpiece for a client. Jeff Gogue has an approach that involves solving problems on a different level by understanding what already exists on a client's body, adopting a mindset of "what is" and then considering "what can be." In doing this Jeff has the ability to better map out and expand on a client's current tattoo situation, and leave room for future collaborations with other artists. Jeff's mastery in tying his work efficiently to the body through narrative also touches on the awareness of placement's impact on the overall composition.
Also, something practical to consider is incorporating factors like clothing choices and the client's lifestyle. Advising a client to take photos in everyday clothes provides a unique perspective on considering composition from the outset. Understanding placement becomes a foundational aspect of composition, offering valuable guidance to artists grappling with the initial stages of design.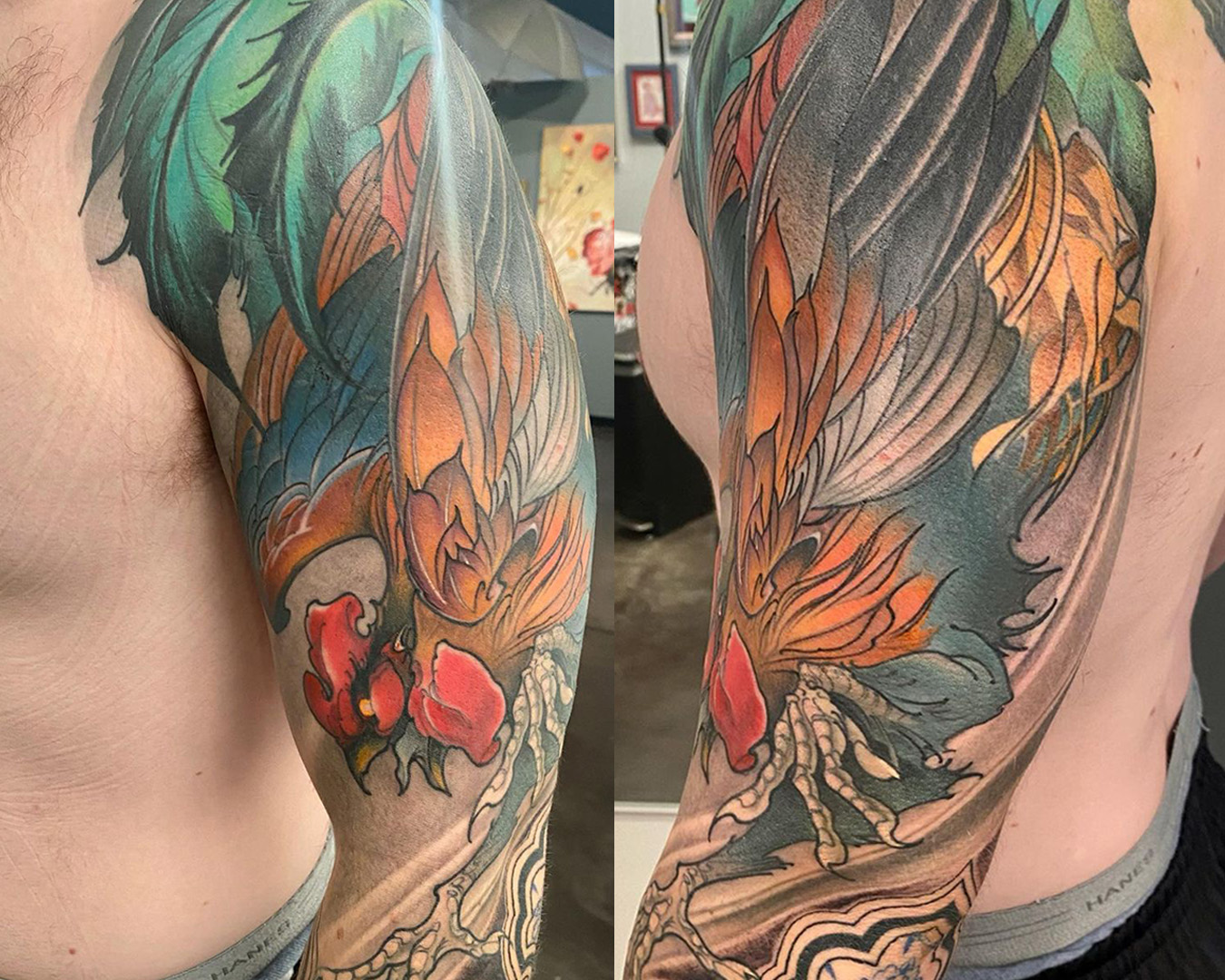 Lastly, awareness of element placement and position should also be taken into serious consideration. Try imagining what the tattoo will look like at rest or in different layouts. For example if you have something like a shark or an eagle going on an upper arm or thigh, you might consider a downward position for the layout. Having the shark tail peak out of shorts or a t-shirt sleeve won't be nearly as interesting as something like the head or the feathers and wing tips of the bird. And swooping those types of animals downwards along the tricep can also compliment the shape of the body very well.
Watch the full episode:
GET READY FOR OUR ANNUAL TATTOOED SANTA PARTY AND TOYS FOR TOTS DONATION DAY ????

WHEN? DECEMBER 16th @ 11:00AM
OPEN TO THE PUBLIC !
SAVE THE DATE ?

Help us make this holiday season merry and bright for the young boys and girls in our community! We will be accepting donations of unwrapped toys for children of all ages from now until the evening of Saturday, December 16th. Every toy valued at $10.00 or more that you bring will be entered in a raffle to win a gift card to Unify Tattoo Co. We will be raffling off three gift cards valued at $600.00, $300.00, $150.00
If you wish to give a donation and you are out of town please make sure to contact us!! The winners will be announced on December 16th after the party!

You will also get a free photo with Unify's own Tattooed Santa!?? Santa will be at the studio and available for photos from 11:00am to 3:00pm.
We hope to see you guys soon ??