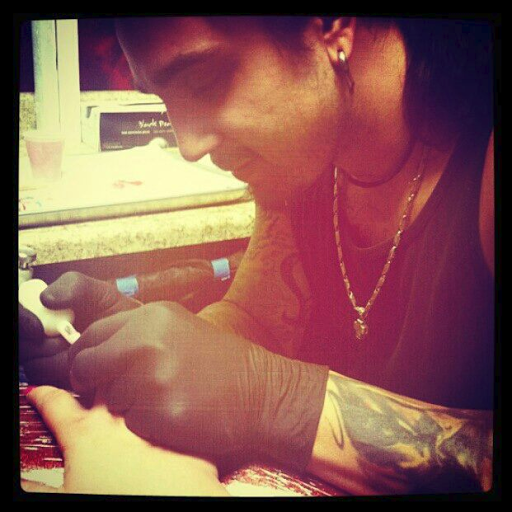 Location
Glendale, AZ
623-512-3250
I was born in Philadelphia, Pennsylvania and raised in New Jersey. My family moved to Glendale, Arizona in 1997, where I currently reside. In 2005 I graduated from the Art Institute of Phoenix with my Bachelor's in Media Arts and Animation. After a few years of working with 3D environment and character modeling for a handful of companies, the industry dried up and I was forced to pursue other options. Art has always been a huge staple in my life and I did not want to get some random job, not creating art, so in 2011 I purchased my first tattoo machine and began my tattoo career.
My artwork is heavily influenced by classicly animated films and comic book artists such as Ray Harryhausen and Frank Frazetta with a twist from Tim Burton, thus giving way to my illustrative/realism what have you style. However, I am not solely limited to this art style and also thoroughly enjoy new school as well as portrait work. I have had the honor of winning multiple awards in color categories at an early stage in my carreer, which has in turn motivated me to push my limits, expand my understanding and hone my technique even further. With such truly talented artists in this industry, I take every opportunity to study and learn from the greats. My medium isn't lmited to paper and skin, I also enjoy pushing around oil paint which I firmly believe has aided in my color theory and overall creativity in my tattooing.
In 2018 I expanded my tattooing career by opening my own shop, Evermore Tattoo, in Glendale, Arizona. Any downtime I have is spent, drawing, painting or spending time with my wife and beautiful daughters. Please feel free to contact me to set up an appointment for a custom tattoo or to purchase any of my artwork on canvas or apparel. Hope you enjoy my art as much as I enjoy creating it!