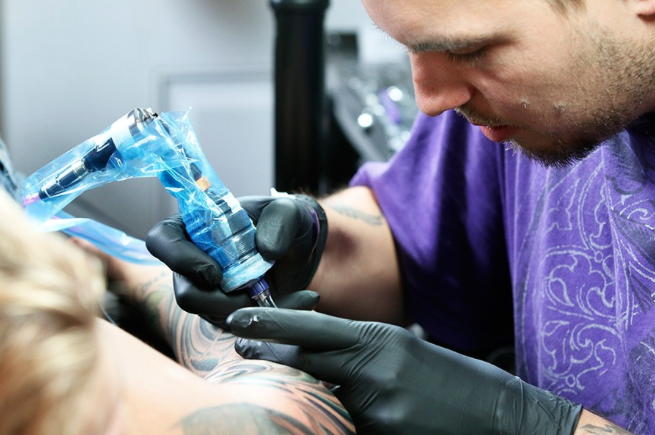 Location
Kalispell, MT
(406) 890-4148
I am so grateful for the gift of art. My clients help me to expand in my creativity every day… thank you all. I strive to be the most creative that I can. I try to live my life in a way that helps my creativity grow, and when I am staying true to this I feel the most complete. I often fail to do this, but I just recommit and keep pushing on.

Every day my goal is to use myself to the fullest, and when it comes to tattooing what I need in order to use myself to the fullest is a good connection with the person and to have similar taste… otherwise I am unable to really work well with them to create the piece. I also must be able to make a connection with the piece of art that I am going to work on. Doing the layout for the piece is the most important part for me and it is an amazing part of the tattoo. This is where I get to help someone else's vision come to life and it is very exciting for me. Tattooing is a wonderful form of art because people come to me with inspiration. All of the work would never be done if that person didn't come into my life at that time, and this is what makes tattooing such a beautiful gift for me.

The actual tattooing is very simple… I just try to stay in the moment through the entire tattoo and complete every small part of the piece to the best of my ability.

The dream of getting a tattoo is amazing to me, and I love getting to make these dreams come true for people. Its awesome that someone can have such a strong connection with a piece of art. They are willing to not only pay for it, but then to earn it through pain so they will be able to wear it for the rest of their life… and I respect this.

My studio is not a typical tattoo studio. There are no walk ins and I try to only do tattoos that I feel like I am uniquely suited to do. Please don't mistake this for me being arrogant, its just me trying to be honest and admitting that I am not the best person for every tattoo.

If you have and idea for a tattoo that you feel like you have a very strong connection to… that is the first step. The next step is finding the right person to do it for you… and I will do everything I can to help make your dream come true in the best way possible.