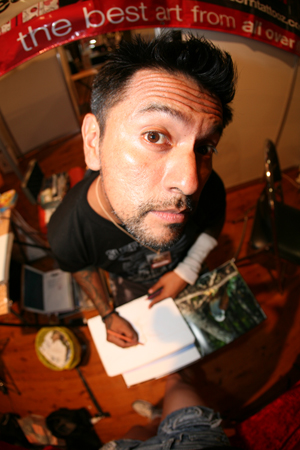 Location
Gold Coast, Australia
+61 (0) 7 5554 5787
Marco is a self taught artist. After studying graphic design and marketing, Marco began his worldly travels in his early twenties and made his way throughout North and South America.

In 2003, Marco moved to Australia and soon began his regular trips to Europe, North America and Asia. He has since visited over 100 countries, attended over 200 tattoo conventions and worked in countless studios worldwide.
Marco works in many different art mediums, but he's favorites include digital and airbrush, and of course, tattooing.

Milestones:
Marco founded his first studio in 2004; Satisfaction Art and soon after opened his second; SURF n Ink - The Studio (formerly Colour Tattoo). Custom Tattooz Magazine and Custom Irons Tattoo Supplies came in 2007. In 2010 Australia saw it's first truly International Tattoo Convention: SURF n Ink, organised solely by the hardworking duo; Marco and his girlfriend, Lindsay. Late in 2011, Marco released his first range of Inkside Surfboards; innovative design concepts for surfboards. In 2013, Marco expanded his vision and brought his tattoo convention to Brisbane and Townsville. In 2014 he opened a third tattoo studio in Surfers Paradise, another SURF n Ink Studio. The shop has since been dubed the 'Chinatown Shop' located in the heart of Surfers in a high traffic laneway among some of the coasts best eatery's! Marco continues to host annual tattoo conventions in Queensland, Australia.

With his relentless 'all-or-nothing' attitude, on a daily basis Marco continues to surf, train hard and create art.