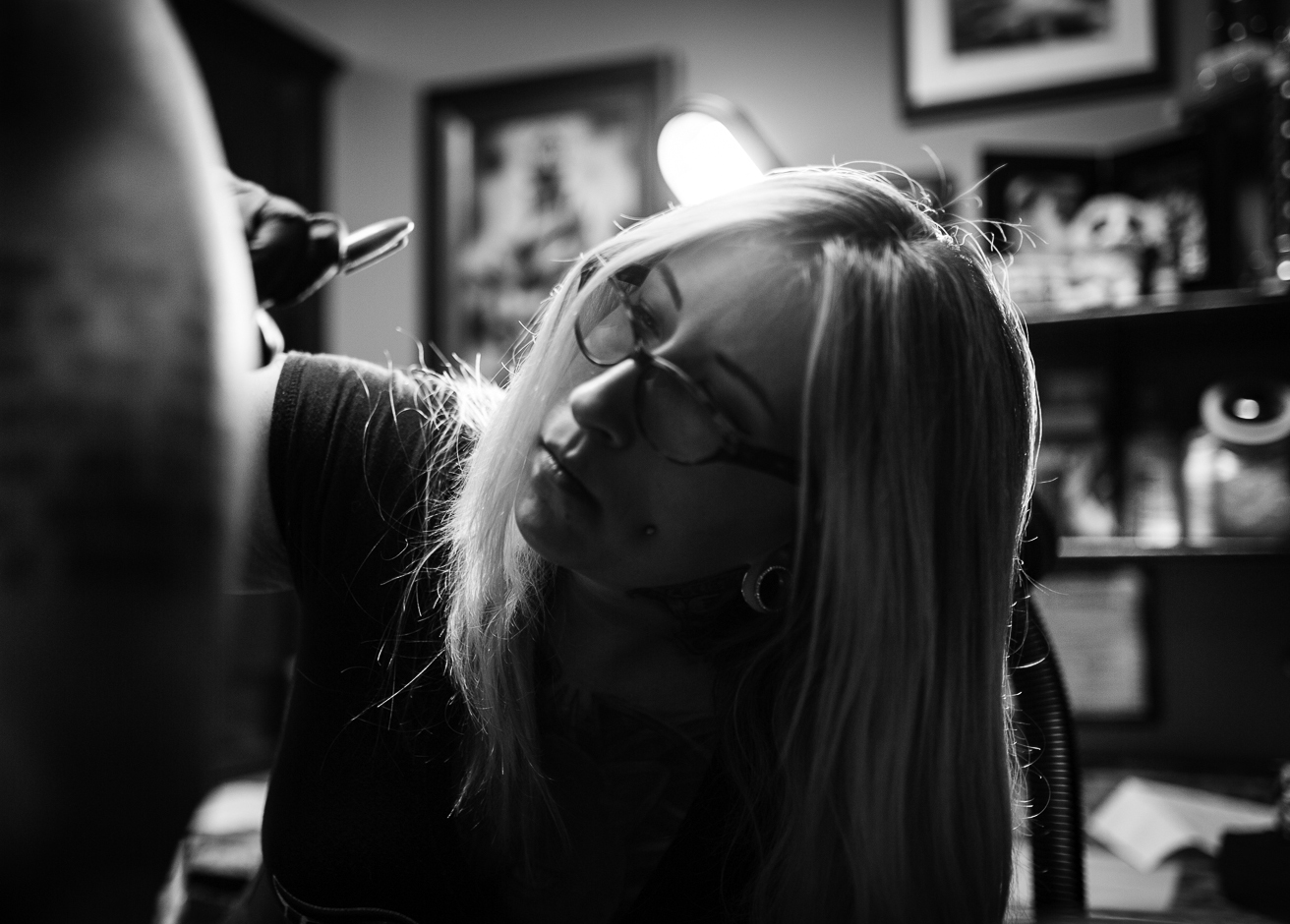 Location
St. Augustine, FL
904-770-7779
Born a Wisconsinite, at the age of 14 Pepper had dreamed about becoming a tattoo artist. Once turning 16, she sought out an apprenticeship by going to different studios in the Milwaukee area showing them her high school art portfolio. No one really took this 16 year old seriously. Hell, why should they have? However Pepper was determined to get her foot in the door somehow. She had her big break when a good friend introduced her to a local artist who after seeing her work had decided to give her a shot. It wasn't immediate though. That chance came a few months after her 17th birthday. A senior in high school, Pepper would go to school half the day and then leave early to take her apprenticeship the other half on a high school work program. Upon her 18th birthday, which fell around graduation, she had achieved her goal of becoming a full time tattoo artist.
This accomplishment was great but still wasn't enough for Pepper. She also dreamed of creating photorealistic tattoos and yearned to learn more. After a couple of years tattooing in Wisconsin she had an offer she couldn't refuse. Hardly believing it was true, she jumped at the chance to work in Indiana with Monte and Joshua Carlton who taught her the base of what she knows now. From there she sought more knowledge and was offered other wonderful opportunities in Colorado, Georgia, North Carolina and Florida. Throughout the course of her now 20 year career, she had decided to pursue them all and has come out the better for it. By taking these opportunities she has not only learned a lot about her craft, but herself as well.
Always the ambitious one, Pepper enjoys traveling to conventions not only to be around her peers and attend seminars, but to compete as well. Since the start of her career Pepper has won numerous awards from across the US and hopes to eventually make her way overseas. In addition to this she has been featured in multiple publications ranging from newspapers, magazines, and even radio. Currently Pepper is married to Bart Andrews, and together they own and operate Unify Tattoo Company located in St. Augustine, FL.
When not at a show or in the studio Pepper enjoys spending her time with good friends, family, and the outdoors. Being a 'backyard tourist' is one of her favorite things for whatever location she has found herself in. Her natural curiosity of the world around her coupled with her passion for travel only fuel her wanderlust. Be on the lookout for Pepper as you just might see her around your hometown.
If you would like to purchase digital or physical prints of Pepper's artwork, please check out her website, Designs By Pepper Art by clicking HERE.
To make a tattoo appointment with Pepper it is best to send an e-mail expressing the ideas that you have along with photo reference. Please know that Pepper will not replicate another person's tattoo, as she believes each person is an individual, and their tattoo should be designed directly for them. Due to increasing popularity and demand, Pepper has limited availability and is selective with tattoo ideas proposed from potential clients. Currently her wait time is four months.
If interested in booking with Pepper, please know she selects pieces that go along best with her style and interests. She believes that there is the right artist for each tattoo, therefore she prefers to be paired with clients who are like minded which she feels yeilds the best tattoo experience all around.
Some guidelines and requirements for tattoo appointments are:
Pepper absolutely does not do Japanese, Biomechanical, and American Traditional. She enjoys and respects these styles, but for something like this she suggests checking out Bart or another artist's work at the studio.
Pepper does not do large/advanced cover-ups. Smaller pieces she is willing to cover, but this needs to be determined by a consultaton or photos of the existing tattoo first. For large/advanced cover-ups, please check out her husband, Bart's work. To learn more about removal and how this can assist in cover-ups click here.
Pepper works best with clients who are willng to award her full creative reign over any image or concept. She prefers the freedom to create and believes through this the best obtainable design is achievable.
Pepper has preference for portraiture, realistic black & gray, trash polka, abstract, and floral/feminine designs. She mainly does large-scale work and has a minimum tattoo time of three hours.
Pepper requires a consultation before any actual tattoo appointment is made. In person is best, but when traveling from a long distance (1.5 hrs or greater) e-mail is acceptable. That way she can get a feeling for who you are, what you are looking for, what is achievable, and if you both are a good fit for one another as artist/client. From there an actual tattoo appointment will be set. Please know that if Pepper feels a different artist will be more suitable for your piece, she will express this as her primary goal is to give the best tattoo possible. Even if this means guiding someone toward the right artist or the option of removal.
Thank you for your interest and support, we hope to see you soon!
Facebook: facebook.com/pepperspicytattoos
Instagram: Pepperspicy