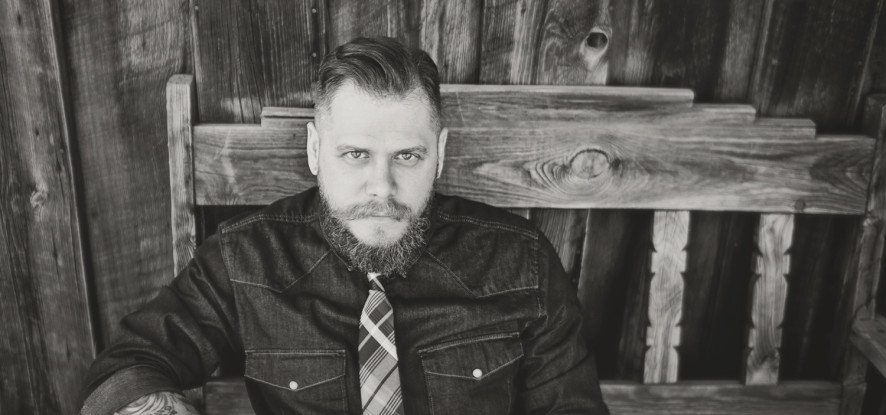 A Phoenix native, Siege showed artistic interests from a very young age. Having never been encouraged to pursue art by his teachers as a child, Siege chose to attend Arizona State University and study Art & Art History in hopes of becoming a teacher who could inspire other young artists.
During this time, he was introduced to Bob Sims who was an insanely talented local tattoo artist & owner of Lucky Draw Tattoo. Siege will say that it was this encounter that changed him-not only the way he viewed tattoos, but the way he viewed his life as an artist in general. His eyes had been opened to the idea of tattoos as "art". When Siege was 24, Bob gave him his first tattoo. While he watched the way the piece unfolded, from beginning to end, he knew that he would still be a teacher someday, but not in the way he had originally thought.
He also knew that in order to become a teacher, he must first be a student. Tattooing is no different. Siege started focusing more on drawing. He started drawing tattoos, studying the work of other artists, & paying more attention during his own sessions. In 2006, Bob Sims died suddenly leaving Siege with an unfinished piece on his left leg & a yearning to learn more. It was around this same time that he met Brando-an up-and-coming horror portrait artist making a name for himself at Sacred Skin Tattoo in Phoenix. Siege presented Brando with a drawing portfolio, which he admits was "mostly garbage", but Brando saw something in him & decided to take him on as an apprentice. Together, they worked at several shops, attended numerous conventions, & collaborated with many talented local and national artists.
As artists, Siege and Brando really couldn't have been more different. A natural painter, Brando used little to no linework in his tattoos. Consequently, when Siege started developing his own style, it was linework that he struggled with most. While he felt comfortable shading, he felt that lines were so definite and he strived to find the confidence necessary when creating pieces with bold lines. Ironically, it is in those lines specifically that he found his true aesthetic. His often vintage inspired images boast impeccably sculptured linework, unsuspecting color combinations, & floral details. He takes cues from neo-traditional & realism tattoo styles, but adds his own unique spin making each piece an authentic original.
"Siege hopes to leave the industry better than it was when he started, to earn the respect & recognition of his colleagues, and to be remembered for being fair and honest."
Most recently, Siege has begun to focus on building his painting portfolio, vowing to complete 100 paintings in 1 year. This has turned out to be no small feat. Finding time to be inspired, sketch, and complete an oil painting is a daunting task amid fully booked schedule of tattoos, but it is important to him as he feels that painting makes his tattoos stronger and vice versa. Preferring oils over other mediums has forced Siege to slow down, build his painting in layers, and appreciate the process-something that has unquestionably helped him grow as a tattoo artist as well. The subject matter for his paintings extends a vast gamut of ideas: religion, nature, music, photography, and literature.
Siege hopes to leave the industry better than it was when he started, to earn the respect & recognition of his colleagues, and to be remembered for being fair and honest. As an ever-evolving artist, Siege looks forward to what challenges the future has in store and is currently booking appointments for the later part of 2015.